Kentucky PGA
Special Awards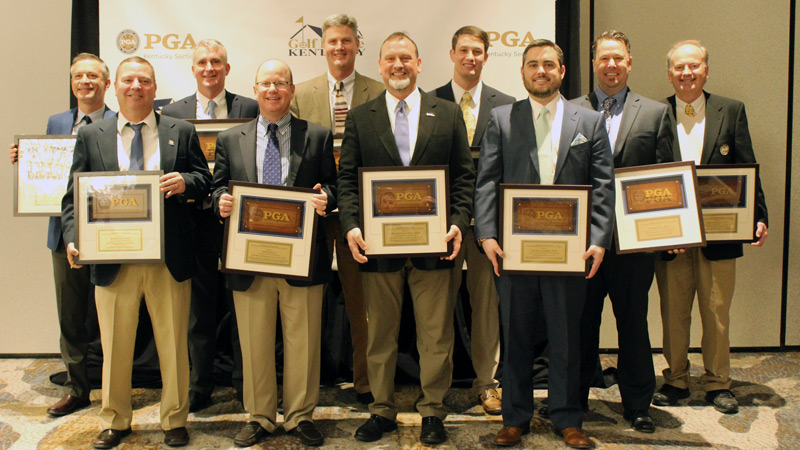 The Kentucky Section PGA is proud to announce the 2019 KPGA Special Awards recipients. These individuals have demonstrated exemplary work and service in their respective positions, enhancing the game of golf in Kentucky as a result. The KPGA is excited to recognize these Professionals at the 2019 Special Awards Presentation presented by Sterling Cut Glass at Griffin Gate Marriott Resort in Lexington on March 4.
The following Kentucky PGA Professionals are this year's honorees and display excellence in their profession, assume an ongoing commitment and devotion to progressing the game of golf and to preserving the integrity of the industry.
Donnie Caldwell, PGA - Golf Professional of the Year: The recipient of this year's Golf Professional of the Year award is Donnie Caldwell. Donnie is the Head Golf Professional at Wasioto Winds in Pineville. After his hiring, Donnie quickly established a First Tee program at Wasioto Winds, which has become one of the most successful First Tee programs in the region. There are several practices Donnie uses that have helped him succeed through the years, the first of which being "Learning From Others" which he learned from Jim Howard, PGA and Robert Harris, PGA while working in Florida. Howard and Harris would take a junior golfer to lunch and introduce them to multiple members of the club, so that the junior golfer feels important and appreciated. Donnie preaches a "combination of a five-star resort and mountain hospitality" as well. This incorporates making a strong first impression, being one step ahead of the customer's expectations, and showing an appreciation for visiting the club through a sincere smile or focused conversation. Servant leadership is also critical to Donnie's success. Building confidence and morale to the staff by being willing to clean carts, while also taking the time to train outside service members how to repair clubs demonstrates helping any department in need.
Nathan Downs, PGA - Assistant Professional of the Year: Nathan Downs is presented with this award for his ability to become instrumental in developing a merchandise buying plan for an award-winning golf shop at Hurstbourne Country Club in Louisville. Nathan provides constant, well-rounded support to other staff members at Hurstbourne. He is an accomplished instructor who offered four golfers a "Five Shot Guarantee" this year and succeeded in each case. He became certified as a Callaway Master Fitter in April 2018 and has seen substantial success in club fitting and being able to close sales due to the knowledge gained through this certification.
Kirk Schooley, PGA - Deacon Palmer Award: Kirk Schooley is the Head Golf Professional at Juniper Hill Golf Course in Frankfort. In 2018, Kirk was the leader of a PGA Junior League team, organized junior golf clinics, and oversaw a full schedule of tournaments. One of which was the Annual Governor's Open, a tournament featuring some of the best playing Professionals across the country. Through all of this, Kirk was caring for his mother who passed away in the summer. Kirk himself had to persevere through six blood transfusions caused by a bleeding ulcer and was also diagnosed with cancer. His ability to overcome these obstacles, all while maintaining a high-quality operation, leads to him being bestowed with this year's Deacon Palmer Award.
Josh Snider, PGA - Player Development Award: Josh Snider is the Director of Instruction at Persimmon Ridge Golf Club in Louisville, a position he has held since April 2017. Josh is the recipient of this year's award for his excellent contributions towards player development in Kentucky. Josh has focused the academy's reach towards middle school golfers in Oldham and Jefferson Counties. The programs have become known for their unique, innovative approach that has led to a stark record of success for both advanced and intermediate junior golfers.
Mike Finney, PGA - Teacher of the Year: Mike Finney is the Director of Instruction at University of Louisville Golf Club. Mike has conducted the Cardinal Junior Golf Academy for the past three seasons. Junior programs are offered monthly by Mike to avoid the need for long-term commitments. 15 to 40 junior golfers will be involved in four different programs throughout the season. Those students receive a unified message for all aspects of golf – swing mechanics, fitness, course strategy, tournament prep, and goal setting.
Jason Eberle, PGA - Youth Player Development Award: The Head Golf Professional of Gibson Bay Golf Course, Jason Eberle, is the recipient of the Youth Player Development Award. The Richmond facility has consistently hosted KYPGA Junior Tour events and boasts one of the strongest youth player development programs in the region. Over 130 junior golfers participate in Gibson Bay's junior golf programs in some fashion every year. After-school golf clinics are offered to boys and girls during the spring and fall, and the girls' portion is now USGA-LPGA Girls Golf certified. In 2018, Gibson Bay fielded six PGA Junior League teams, and introduced a local fall tour which took their PGA Junior League participants and transitioned them from scramble play to medal play. Jason also converts the pro shop into an indoor training facility with a launch monitor, helping him give over 330 private lessons over the course of the year
Eric Gilliland, PGA - Bill Strausbaugh Award: Eric Gilliland is the recipient of this year's Bill Strausbaugh Award, which is given to a PGA Professional who has made significant strides in mentoring other PGA Members. As the Head Golf Professional at Audubon Country Club in Louisville, he has worked closely with 14 assistant golf professionals. Developing young professionals has been a priority in Audubon's operation. The assistants are given specific areas of responsibility, but contribute in every area of the operation. Assistants participate in committee meetings, vendor selection, development of programming, budgeting, and tournament operations. This collaborative, cross-training philosophy has successfully prepared staff members for the next step in their careers. Of the ten assistants who have earned PGA membership, six are currently serving as the highest ranking PGA member in their current position.
Tyler Caviness, PGA - Horton Smith Award: Tyler Caviness has been a member of the faculty at Eastern Kentucky University in Richmond since 2009. He has taught approximately 500 students in PGA education courses including Rules of Golf, Tournament Operations, Golf Car Fleet Management, Golf Operations, Customer Relations, and Merchandise & Inventory Management. As a PGA Professional working primarily in education, it is Tyler's daily responsibility to promote the PGA of America brand and advocate becoming a PGA Professional. In the classroom, he and his students routinely have discussions about the benefits of being a PGA member and the opportunities that the PGA of America offers its members.
Keith Ohr, PGA - Merchandiser of the Year (Private): Keith Ohr is the Head Golf Professional at Lake Forest Country Club in Louisville where one of his primary duties is overseeing the merchandise operation. Gross merchandise sales in 2017 came out to $423,056, a figure that was reached in part by Keith's "Merchandising Promise." It states that it should not be the membership's job to purchase equipment from the golf shop. Rather, it is Keith's honor and duty to earn the trust of his membership by utilizing great customer service and extremely competitive pricing so he can lead the way in getting them the equipment they need. Keith feels there are three factors consumers look for when making the decision of where to purchase their golf products: fair pricing, customer service, and, does the customer trust you and your business? Keith believes if his operation is successful at these three factors, each year will be more profitable than the previous year.
Mike Kehoe, PGA - Merchandiser of the Year (Public): Mike Kehoe leads the merchandise operation at Old Bridge Golf Club in Campbellsville. The golf shop sold approximately $725,000 worth of products for the 2018 calendar year. Mike views every person who comes to Old Bridge as both a customer and a future market maker. Whether they are at the facility to play golf, or stopping by the bar and grill, each person is a chance to not only make a sale, but also make an impression for future sales. The first step is by making a personal contact with every person who enters our facility. The staff of the golf shop and the bar and grill always greet customers with a handshake as they start a conversation. Once their attention is gained, they are introduced to the inventories on hand. Later on, consumers are sometimes asked to help move an item or approached for their input on the items stocked. Increasing both the visibility of stock and the visibility of the staff make sales and transactions more enjoyable, and leads to customers becoming future marketers.
John Perdue - Sales Representative of the Year: John Perdue is a Sales Representative for Titleist based out of Louisville. John has partnered with hundreds of PGA Members and apprentices within the states of Kentucky, Indiana and Illinois in the last 17 years which has allowed him to develop and grow key relationships both personally and professionally. In that timeframe, he has been directly involved with the Titleist/Foot-Joy Team Championship held at Gay Brewer Golf Course at Picadome. This has allowed Titleist and Foot-Joy to touch 100+ serious golfers on an annual basis with brand awareness and social interaction. In addition to sponsorship, John supports the personal equipment needs of 73 Titleist Staff Members with Titleist golf clubs and over 250 customers with the Titleist golf ball for both tournaments and recreational play. He also oversees the donation of thousands of Titleist and Pinnacle golf balls to various charities in the Kentucky Section throughout the year.
John Engle - Media Representative of the Year: The recipient of the Media Representative of the Year award is John Engle. John works with Pinnacle sports in Pineville. He provides print and online coverage of the First Tee, KPGA, SEC Conference, small local colleges, and PGA Tour events. John's magazine and online coverage helps makes the public aware of area golf clinics and tournaments within the area, leading to increased community participation and involvement.by providing positive publicity for the game of golf. John's coverage has been instrumental in promoting the game of golf across Kentucky.
---
Kentucky PGA Special Awards
For a History of KPGA Special Award Winners ... click here > >
Golf Professional of the Year
One of the highest honors the Association can bestow on a working club professional whose total contributions to the game best exemplify the complete PGA Professional.
Assistant Professional of the Year
Awarded for overall excellence as an assistant professional.
Teacher of the Year
Recognizes a PGA Professional who is an outstanding teacher of golf among the ranks of PGA membership.
Sales Representative of the Year
Recognizes an outstanding Golf Sales Representative in the Kentucky.
Youth Player Development Award
Recognizes the PGA Professional who is a leader in junior golf and who reflects the ideals of those who work with youth.
Media Representative of the Year
Recognizes an outstanding Golf Media Representative in the Kentucky.
Bill Strausbaugh Award
Recognizes PGA Professionals who by their day-to-day efforts have distinguished themselves by mentoring their fellow PGA Professionals in improving their employment situations and through service to the community.
Horton Smith Award
Recognizes the PGA Professional who is the model educator of PGA Golf Professionals.
Player Development Award
Recognizes a PGA Professional for extraordinary and exemplary contributions and achievements in the area of player development.
Merchandiser of the Year
Recognizes those PGA Professionals who have excelled as business persons & merchandisers in the promotion of golf at a private, public or a resort facility.
Golf House Kentucky Sponsors