Kentucky PGA
Special Awards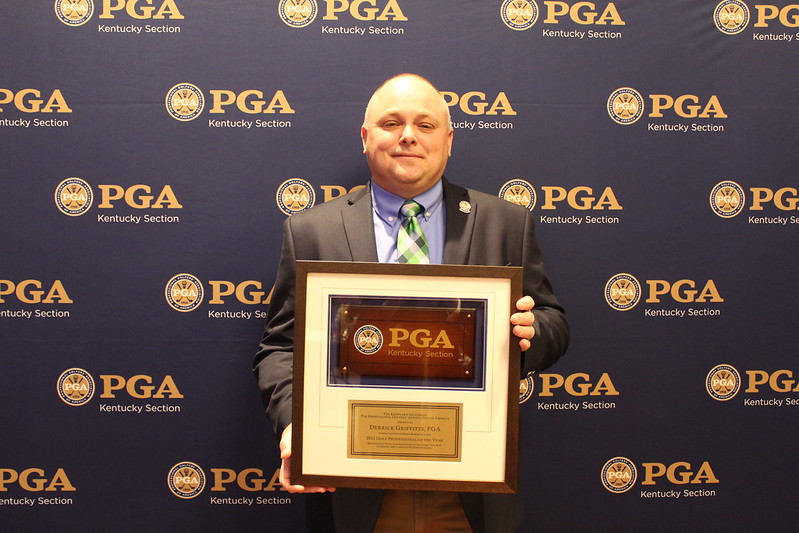 2021 Special Award Winners
Fourteen integral figures of Kentucky golf have been selected as the Kentucky PGA Section's 2021 Special Awards recipients. The Special Awards recognize those who have made a profound impact on golfers in Kentucky, other PGA Member Professionals, or demonstrate outstanding operations at their respective workplace. Each recipient was recognized earlier today at Griffin Gate Marriott in Lexington during the Dever | E-Z-Go Spring Member Conference. The winners are as follows:
Derrick Griffitts, PGA (Golf Professional of the Year) – Since the mid-2000s, Derrick Griffitts has been the heart and soul of Clear Creek Golf Center in Shelbyville. He is the facility's General Manager which includes tasks such as caring for the golf course's maintenance as Superintendent, overseeing the golf shop's merchandise, repairing golf clubs, teaching students of all ages, and organizing one of the most popular PGA Jr. League programs in the greater Louisville area. His work into golf goes beyond Clear Creek as the Girls Golf Coach for Shelby County High School, a role he has held since 2019. That year, he was presented with the KHSAA's Girls Golf Coach of the Year and the NFHS Girls Golf Coach of the Year (Mideast Region). The exact number of golfers who have been impacted by Griffitts is too high to count, but Griffitts has demonstrated throughout his career what it truly means to be a PGA Professional.
Josh Griffin, PGA (Assistant Golf Professional of the Year) – At the start of 2021, Griffin was elected by his fellow Assistant Professionals within the Section to represent them as the Section's Assistant Committee Chairman. Now, he receives the highest distinction an Assistant Professional within the Section can receive with this award. Griffin graduated from Eastern Kentucky University's PGA Golf Management program in 2015 and has been with the Wildwood Country Club staff since 2017. He has taken leadership roles with the facility's tournament operations, merchandising, junior programming, men's league, women's league, and outside operations among other departments. Griffin is a strong player within the Section as well, which included a top-five finish in last year's Assistants Section Championship. Simply put, Griffin is a model Assistant Golf Professional and is destined for big things within the golf industry.
Todd Butts, PGA (Player Development Award) – The Head Golf Professional of Paducah's Drake Creek Golf Club has been about as innovative as a PGA Member can get when it comes to furthering enjoyment in the game with golfers. Butts created a three-step program that launched increased participation within golfers and drove revenue into his facility. 1) Create programs and events that attract golfers. 2) Market the programs. 3) Make sure all golfers are invited back to the course and keep them involved. It sounds easy on paper but preaching this process has been key throughout Butts' time at Drake Creek. It's helped programs like the West Kentucky Junior Golf Development League, Ladies Hit and Giggle, The Brew Crew, and Working Ladies Golf League flourish. This past offseason, Drake Creek constructed a PGA Learning Center in its clubhouse which gives Butts and his staff the ability to teach and entertain students indoors throughout the year. Golfers are in good hands when they find themselves with Butts, who has made Drake Creek a premier spot to visit for anyone wanting to learn more about the game.

Colby Wollitz, PGA (Teacher of the Year) – Wollitz has helped build an empire of sorts at The Golf Academy at Persimmon Ridge. His hard work there previously led to him receiving the Player Development Award in 2020 plus the Youth Player Development Award in 2017 and 2016, but this is his first time receiving Teacher of the Year. Wollitz works with talented golfers such as Cooper Musselman, C.J. Jones, Macie Brown, and Tyler Alred among many others. Their work in tournaments demonstrates the impact Wollitz can have, but his work has positively affected several programs The Golf Academy operates, plus the St. Patrick's Middle School golf team, a local juvenile detention center, and Semper Fi, which centers around wounded veterans. No matter what kind of person Wollitz has gotten to work with, he has successfully been able to help their love for golf blossom regardless of their background which makes him a fitting recipient of Teacher of the Year.
Blake Hardesty, PGA (Youth Player Development Award) – After joining First Tee - Louisville's staff a few years ago as Program Director, Hardesty has helped the program take the next step in properly reaching youth golfers around Louisville that have had little exposure to golf and might not have ever considered taking the game up. An alumnus of the PGA Golf Management program at Eastern Kentucky University, Hardesty's work with young golfers dates back to his time in college where he often volunteered his free time to getting children interested in the game. Flash-forward to today, and it's widely seen how much positive work Hardesty has done in his community. New programs, successfully navigating the COVID-19 pandemic, and educating today's participants on those who helped shape the game around Louisville in the past are just a few of the ways Hardesty has promoted enjoyment in the game amongst youth. By all accounts, his work the last few years will continue to show its dividends for many years down the line.
Eric Gilliland, PGA (Bill Strausbaugh Award) – Awarded to a PGA Member who has done great work in mentoring other PGA Members, Eric Gilliland of Audubon Country Club fits the bill. The Head Golf Professional of two decades at Audubon has helped nearly a dozen of his colleagues reach an elevated level in the golf industry, with Kentucky PGA Members Patrick Vadden, Chris Wilson, Kevin Main, Chad Stocker, and Blake Watts among that group. One notable fixture that has helped do this is Audubon's annual Assistant Skins Game, a summer-time event that has been held since 2003. It features three Audubon Assistant Professionals going against three top Assistant Professionals from other clubs in Louisville in a best-ball competition. Since 2011, the participants have competed for a share of $9,000, a figure that can significantly bolster an Assistant's income. This is Gilliland's fourth time earning this award within the Section and his twelfth Section award in total, furthering his legacy as one of Kentucky's top PGA Professionals.
Kirk Schooley, PGA (Deacon Palmer Award) – This award honors a PGA Member who has displayed outstanding character while overcoming a major obstacle in life. The smiling Head Golf Professional of Juniper Hill Golf Course, Kirk Schooley, has always displayed a contagious amount of enthusiasm. That was even the case when Schooley battled cancer during a stretch of time in the mid-2010s before being declared cancer-free in 2019. Cancer has remained dormant since then for Schooley, but the willingness to put forth a top-notch public golf experience for visitors to Juniper Hill while remaining active in Section activities demonstrates the kind of person and fighter Schooley is. He also won this award in 2019 which goes alongside Larry Gilbert Player of the Year honors in 1998, 1997 and 1993 plus the Senior Player of the Year title in 2015.
Jamie Miller, PGA (PGA Professional Development Award) – The General Manager of GlenOaks Country Club receives his first Section award with this honor in recognition of his education of other PGA Members. The prime example of how Miller has done this is through his creation of the "Wall of Fame." This wall depicts the PGA Members who have moved to elevated positions throughout their careers, tracking their progress and showing what hard work can lead to. Miller works hard with each person he mentors at pinpointing what their top skills are and what skills they can finetune to broaden their resume. Job applications, job interviews and everything in between is firmly covered to ensure the best chance of success when it comes time for that person to move onto their next role. Once they do, they're added to the Wall of Fame themselves. Miller has said he "hopes to show that employment is more than just a paycheck and a placeholder. He truly cares about each individual's personal success and wants them to move up in their careers."
Kelly Maxwell, PGA (PGA Golf Executive Award) – A new award within the Section goes to Maxwell, the General Manager of Big Spring Country Club. Maxwell's work at Big Spring began in 1994 as Head Golf Professional. Now, nearly three decades later, he steers the Big Spring ship amidst a period of mass success and growth. When he first became General Manager in the late 2000s, Maxwell was simply trying to keep Big Spring afloat as the economic recession and banking crisis threatened the club's future. Creative thinking and a well-executed strategic plan ultimately led to a merger with Harmony Landing, which has been under the Big Spring umbrella since 2014. Big Spring members have been able to enjoy playing two of Kentucky's top venues in the time since. A recent renovation to Big Spring's clubhouse under Maxwell's watch has produced one of the most state-of-the-art buildings Kentucky's golf scene has to offer. His motto of "If you build it, they will come" has created the current scene of a full membership roster with a long waiting list for prospective members coupling it.
Matt O'Keefe (Patriot Award) – Presented to a PGA Member who demonstrates patriotism in the game and shows continued commitment to men and women who have served and protected the United States, O'Keefe, a veteran himself, is the ideal candidate for this award. It is his first Section award, one that is presented in part from his discounted coaching of all veterans and free coaching for members of the Wounded Warriors Project. O'Keefe has been a staunch advocate and participant in Patriot Golf Day since its inception, which has helped make Quail Chase Golf Club one of the most popular Patriot Golf Day facilities in Kentucky. O'Keefe has always played an active role within PGA HOPE since its launching in Kentucky. Participants of the program at Quail Chase have come to expect O'Keefe greeting them and helping navigate them towards an enjoyable experience. O'Keefe's service to the country will forever be his most important distinction, but his service to veterans has not gone unnoticed and has made a lasting impact towards his fellow servicemen and servicewomen.
Nathan Downs, PGA (Private Merchandiser of the Year) - Downs' first full year at Greenbrier Golf & Country Club as their Head Golf Professional was a good one as the Greenbrier golf shop's revenue more than doubled in 2020 compared to 2019. Because of the pandemic, Greenbrier's total number of rounds played increased dramatically in comparison to years past. Using that increased traffic turned out to be pivotal in leading to increased sales. With the strategy in place of rotating merchandise in the golf shop on a biweekly basis, products frequently get viewed with a fresh eye and increase their chance of being purchased. The premium of visual merchandising combined with Downs' skills as a Golf Professional to begin with lead to this, his first Merchandiser of the Year award, and second Section award in total, following up his Assistant Professional of the Year award in 2019.
Robert Costello, PGA (Public Merchandiser of the Year) - This is the second consecutive year Costello has taken this honor, with his hard work benefiting Nevel Meade Golf Club. Since becoming their Head Golf Professional in 2018, Nevel Meade's gross merchandise sales has increased each year, but 2020's number shot through the roof, with a massive jump in revenue in 2020 compared to 2019. The pandemic increased the rounds played mark by nearly 27%, certainly increasing the likelihood goods would be purchased. Ultimately though, Costello's creative but simple idea of creating an outdoor golf shop during the quarantine timeframe of last spring resulted in products being easy to spot yet enticing to buy. Costello also created "Fitting Fridays" in 2020 which brought a different vendor to the facility twelve different Fridays throughout the year. The amount of hard goods sold on these days increased dramatically, all while furthering members and customers' trust in Costello to guide them to the right equipment or merchandise.
Scott Brown (Media Representative of the Year) – Brown has been a part of the team at YourSportsEdge.com since 2017 as Sports Editor. For just a team of four, the outlet seemingly is at all junior golf tournaments throughout the year in addition to covering other sports within Kentucky. Brown's coverage of the Kentucky PGA Junior Tour, KHSAA State Championships and other high school events includes in-depth stories, videos and photography that provide a big-time media feel to young golfers. His work also has benefited adult golfers, with 62 total players interviewed throughout 2020 by Brown. Among them were Russ Cochran and Emma Talley. The online presence Brown has created with YourSportsEdge has put Kentucky golf in the limelight with coverage seldom found anywhere else.
Tyler Chilson (Sales Representative of the Year) – Representing Callaway in Kentucky, Chilson's kindness and genuine personality have lent himself to being one of the most popular sales representatives not just for the Kentucky PGA Membership to work with, but also to spend time with outside of business hours. Chilson has become a friend to many Members and Associates within Kentucky, while committing to quality work with his business simultaneously. Chilson hosts the Callaway Ball Speed Blitz (also known as The Kings of Distance) to PGA Members each year, giving Members the chance to earn 4 MSR points by attending. He also represents a long-standing partnership within the Section and the Callaway Pro-Assistant at Audubon Country Club, slated to be held on Monday, May 24 this year. His commitment to customers and investment in providing the best experience possible for all golfers he comes across makes him a model example of what Sales Representatives can aspire to be.
---
Kentucky PGA Special Awards
Click here for the history of KPGA Special Award winners
Golf Professional of the Year
One of the highest honors the Association can bestow on a working club professional whose total contributions to the game best exemplify the complete PGA Professional.
Assistant Professional of the Year
Awarded for overall excellence as an assistant professional.
Teacher of the Year
Recognizes a PGA Professional who is an outstanding teacher of golf among the ranks of PGA membership.
Sales Representative of the Year
Recognizes an outstanding Golf Sales Representative in the Kentucky.
Youth Player Development Award
Recognizes the PGA Professional who is a leader in junior golf and who reflects the ideals of those who work with youth.
Media Representative of the Year
Recognizes an outstanding Golf Media Representative in the Kentucky.
Bill Strausbaugh Award
Recognizes PGA Professionals who by their day-to-day efforts have distinguished themselves by mentoring their fellow PGA Professionals in improving their employment situations and through service to the community.
PGA Professional Development Award
Recognizes the PGA Professional who is the model educator of PGA Golf Professionals.
Player Development Award
Recognizes a PGA Professional for extraordinary and exemplary contributions and achievements in the area of player development.
Merchandiser of the Year
Recognizes those PGA Professionals who have excelled as business persons & merchandisers in the promotion of golf at a private, public or a resort facility.
Quick Links
PARTNERS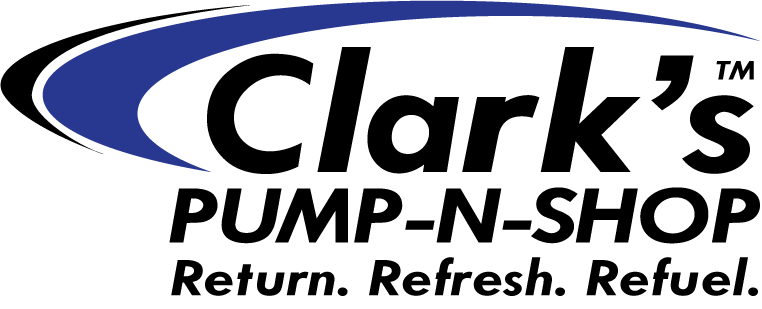 Golf House Kentucky Sponsors