About
Volunteer Opportunities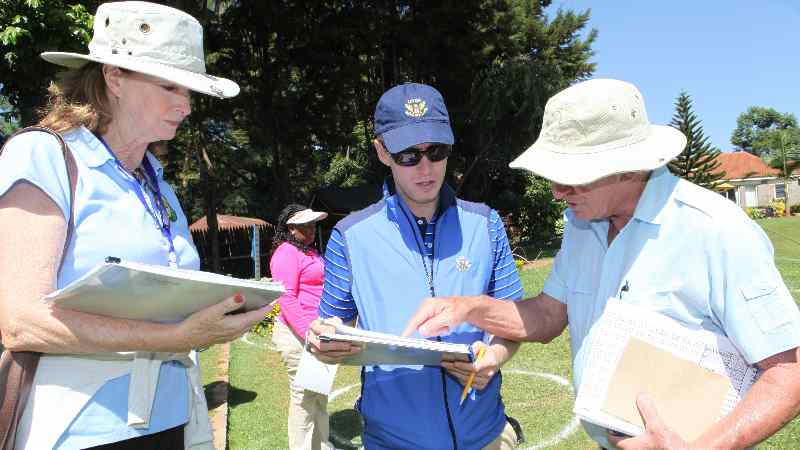 Click here to register as a volunteer for the 2019 season »
Golf House Kentucky is actively seeking volunteers for the 2019 season! Since the founding of the organization in 1978, our volunteers, from Executive Committee members to club representatives to on-course officials, have been the backbone of the association. Although managed by a full-time, professional staff, Golf House Kentucky operates most efficiently with the services of volunteers who loyally assist the organization each year.
The roles that volunteers play range from Course Raters, scorers and assistant scorers, receptionists, starters, spotters, and others. A volunteer is any person who is willing to help perform any one of a host of vital functions. There are many opportunities to get involved and to help in almost any capacity. The rewards are meeting new people, making new friends, seeing new venues, having a great feeling of contributing to the traditions of golf, and knowing that you have made an important contribution to the game we all love.
Volunteer Opportunities
(1) Tournament Operations
The KGA and KPGA tournament schedule consists of approximately 100 days of competition, including Championships, Amateur Series Tournaments, and USGA Qualifying Rounds. Our tournament volunteers help with the various tasks required in administering these events, and are designated roles based on their experience. Areas of volunteer opportunities include:
Available Opportunities
June 3 - 4 - Kentucky Boys Junior PGA Championship at Gibson Bay Golf Course
June 3 - 4 - Kentucky Girls Junior PGA Championship at University Club at Arlington
June 18-20 - 105th Kentucky Amateur Championship at Country Club of Paducah
July 1 - 2 - Kentucky Girls Junior Amateur at Cherry Blossom Golf Club
July 2 - 3 - Kentucky Boys Junior Amateur at Bardstown Country Club
July 15 - PGA Tour Barbasol Championship Qualifying at Boone's Trace National Golf Club
July15 - KGA Amateur Series at Eagle Trace Golf Course
July 30 - August 1 - 100th Kentucky Open Championship at Kearney Hill Golf Links
August 6 - 7 - 23rd Kentucky Women's Open Championship at Frankfort Country Club
August 12 - 13 - Kentucky Senior Open Championship at Houston Oaks Golf Course
August 19 - 20 - Kentucky Senior Amateur Championship at Bellefonte Golf Course
August 19 - 20 - Kentucky PGA Professional Championship at Indian Hills Country Club
August 26 - KGA Amateur Series at Bowling Green Country Club
September 23 - 24 - Kentucky Mid-Amateur Championship
(2) Course Rating and Measuring
The Kentucky Golf Association is licensed by the United States Golf Association as the governing body for amateur golf in the state of Kentucky. Among its duties, the association is responsible for the rating and measuring of all golf courses in the state as well as administering and overseeing the USGA Handicap System. The KGA course rating teams are vitally important to the integrity of the handicap system, as the entire system revolves around accurate USGA Course and Slope ratings. Individuals who would like to serve as a course rater receive training before becoming part of a rating team.
Volunteer raters may work one to four days monthly, usually mid-week to avoid crowded courses, in groups of four or more. Course rating consists of quantifying the difficulty of each hole on fourteen different factors for both Scratch (0 handicap) and Bogey (18 handicap for men) players. The team is attempting to predict the scoring of a scratch player and a bogey player. The difference between the two creates the Slope rating, the larger that difference, the higher the Slope.
Rating requires the ability to recognize how various golf course design features affect the play of both low and high handicap players, all the while following the directives of the system without allowing personal inclinations to interfere with judgments. The successful course raters are analytical by nature and enjoy working with numbers.
Additionally, they measure golf courses from teeing grounds to putting green surfaces in preparation for the course rating team to accurately determine the USGA Course and Slope Ratings. Upon the request of members clubs, the KGA will also measure for yardage markers, such as sprinkler heads, 100, 150 and 200 yardage markers, and from other prominent course features.
Golf House Kentucky Sponsors