Kentucky PGA
Register to Play
PAST COMPETITORS (PROFESSIONALS)
If you are a PGA Member or Associate who has competed in KPGA tournaments in the past, please click here to login to your account. You will find a personalized profile tab containing your participation history and stats among other items once you are signed in.
MEMBERS & ASSOCIATES NEW TO SECTION COMPETITION
If you are new to the Section as a PGA Member or Associate or have not played in any previous KPGA tournaments, please email Ray Moehlman, PGA.
AMATEUR GOLFERS
Amateur golfers do NOT need to create a Golf Genius profile to register for KPGA-sanctioned competitions such as the Kentucky Open, Kentucky Senior Open and Kentucky Women's Open. When registering for an event, the following pop-up will appear. Amateur golfers should click the "Register as non-member" bubble and will be able to proceed from there.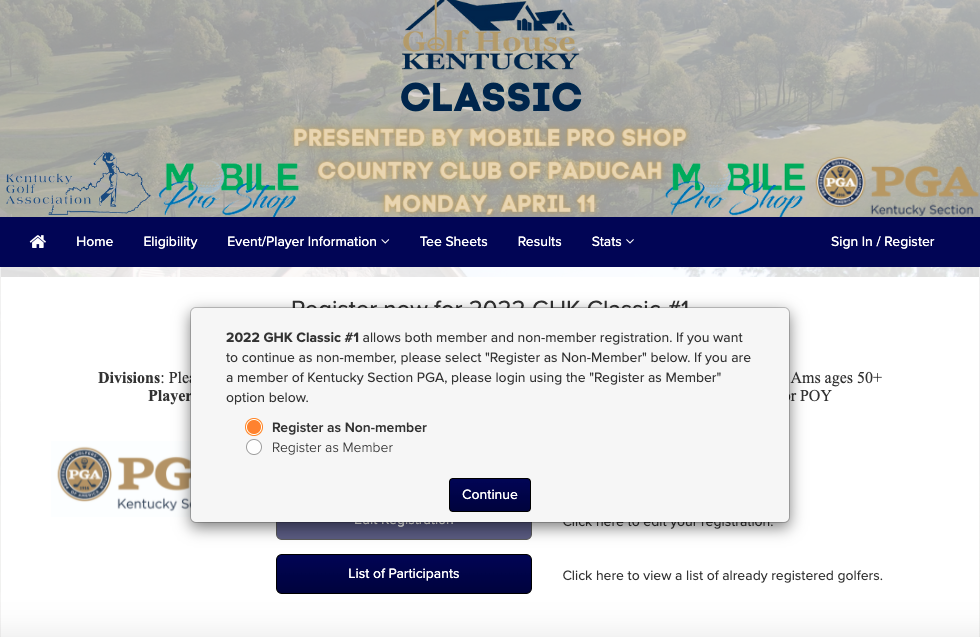 2023 KPGA PLAYER'S CARD ($100)
Members & Associates, to purchase a seasonal discount program that saves $25 off each Pro-Pro and Pro-Am entry fee, get your Player's Card before the Kaiser Cup begins on April 3. Click Here to Register
HOLE-IN-ONE CLUB ($25)
In a new feature for 2023, KPGA Members and Associates can sign up for the Hole-In-One Club. 50% of this entry will be automatically donated to the Kentucky Golf Foundation while the other 50% will go into the prize pool. When a KPGA Professional who has entered into the pool makes a hole-in-one at an eligible tournament during the calendar year, they will earn a share of the prize pool to be awarded at the end of the season. You must have registered and paid the $25 fee at the time of your hole-in-one to be eligible for the prize money. Holes-in-one at Kentucky PGA Junior Tour events, Travel Pro-Ams outside of Kentucky, any PGA TOUR qualifying, PGA of America championships, Playing Ability Tests, or any side-game/event run on a course consisting of only par 3 holes are NOT eligible. Click Here to Register
What time do entries close?
All entries close at 11:59 pm on the day of the published deadline.
I am trying to enter a USGA Championship, where is the link?
USGA Championships have to be entered via the USGA …click here
Golf House Kentucky Sponsors