Kentucky Golf Association
Women's Kentucky State Golf Association
MISSION
The Women's Kentucky State Golf Association was founded in 1922 to promote and advance the interest of golf in Kentucky through championship tournaments, sponsorship of junior golf and state team play.
MEMBERSHIP INFORMATION
All properly organized clubs with golf courses available to its members and located in Kentucky are eligible for membership in this Association. Clubs may be admitted to membership into the Association by paying the annual dues established by the Board of Directors of the WKSGA. (Current dues are $40.00, with $5.00 of this amount dedicated to the Dorothy Waters Award.)
Any woman golfer is eligible for membership in the Association if she is a qualified legal resident of Kentucky and if she is a member of a club that is a member of the WKSGA. The entry fee for the Annual Championship or Annual Senior Championship shall be considered the dues of the individual members of the Association. Members of clubs whose dues are not paid are not eligible to participate in the activities of the Association until the club dues are paid.
PAST CHAMPIONS
Women's golf in Kentucky has a storied championship history through the Women's Kentucky Amateur Championship and the Women's Senior Kentucky Amateur. You can view the list of past champions of each event utilizing the below links.
Past Champions of the Women's Kentucky State Amateur
Past Champions of the Women's Senior Kentucky Amateur
WKSGA DISTRICTS
Five of the seven Board Directors are representatives from various areas of the state. The other two Directors are elected at-large. The colored counties in the Kentucky map define the regions. Listed below the map are the counties in each region.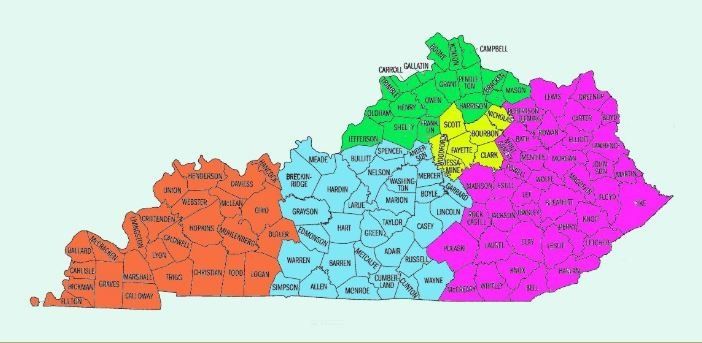 District 1:
Ballard, Butler, Caldwell, Calloway, Carlisle, Christian, Crittenden, Daviess, Fulton, Graves, Hancock, Henderson, Hickman, Hopkins, Livingston, Logan, Lyon, Marshall, McCracken, Mclean, Muhlenberg, Ohio, Todd, Trigg, Union, Webster
District 2:
Adair, Allen, Anderson, Barren, Boyle, Breckenridge, Bullitt, Casey, Clinton, Cumberland, Edmonson, Garrard, Grayson, Green, Hardin, Hart, Larue, Lincoln, Marion, Meade, Mercer, Metcalfe, Monroe, Nelson, Russell, Simpson, Spencer, Taylor, Warren, Washington, Wayne
District 3:
Boone, Bracken, Campbell , Carroll, Franklin , Gallatin , Grant, Harrison , Henry, Jefferson , Kenton, Mason, Oldham , Owen, Pendleton, Robertson, Shelby , Trimble
District 4:
Bourbon, Clark , Fayette, Jessamine, Nicholas, Scott, Woodford
District 5:
Bath, Bell, Boyd, Breathitt, Carter, Clay, Elliott, Estill, Fleming, Floyd, Greenup, Harlan, Jackson, Johnson, Knott, Knox Laurel, Lawrence, Lee, Leslie, Letcher, Lewis, Madison, Martin, Magoffin, McCreary, Menifee, Montgomery, Morgan, Owsley, Perry, Pike, Powell, Pulaski, Rockcastle, Rowan, Whitley, Wolfe
WKSGA BOARD OF DIRECTORS
President - Laurie Goodlett
Vice President - Teena Freibert
Executive Secretary - Marsha Bordas
Senior Advisor - Anne Combs (appointed by President)
Junior Advisor - Laney Frye (appointed by President)
Director Region 1 - Jessica Grace
Director Region 2 - Jessica Cornelius
Director Region 3 - Peg Escola
Director Region 4 - Cynthia Powell
Director Region 5 - Charlotte Logsdon
Director At-Large - Marilyn Maffet
Director At-Large - Linda Neikirk
Golf House Kentucky Sponsors