Six Individuals to be Inducted in Kentucky Golf Hall of Fame This Autumn
Dick Bradow, Buddy Bryant, Kevin Greenwell, Betty Baird Kregor, Tennye Ohr, and Pat Stephens to be inducted into Kentucky Golf Hall of Fame this autumn.
LOUISVILLE, KY (August 18, 2022) – The Kentucky Golf Hall of Fame's selection committee has voted to induct Dick Bradow, PGA, Buddy Bryant, Kevin Greenwell, PGA, Betty Baird Kregor, LPGA, Tennye Ohr, PGA, and Pat Stephens, PGA as its 2022 class. With a wide variety of playing and teaching accomplishments among this group, it represents one of the strongest classes in the near forty-year history of the Kentucky Golf Hall of Fame.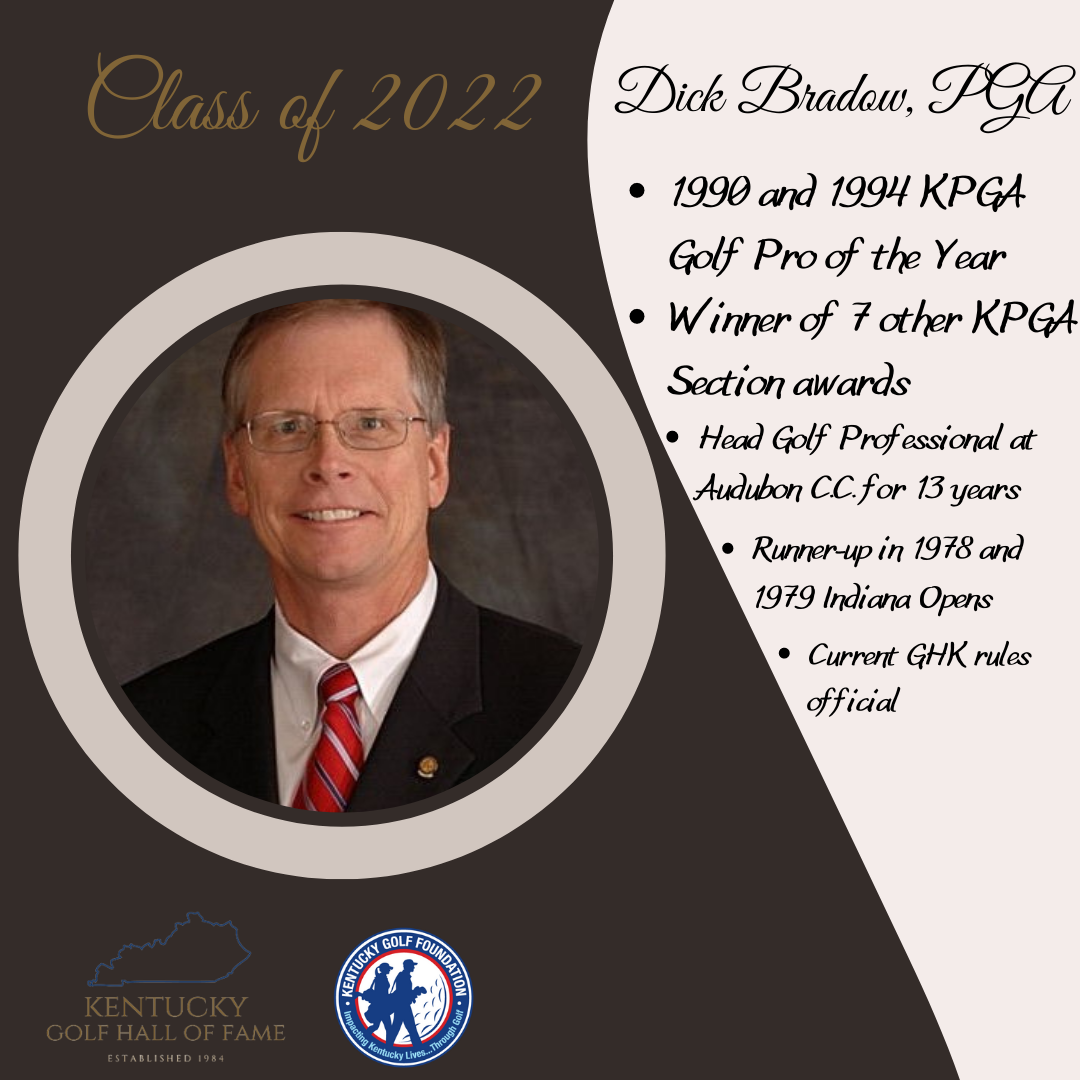 Dick Bradow, PGA was elected to PGA Membership in 1976 and has made his mark amongst amateur golfers and his fellow PGA Professionals in a myriad of ways in the time since. Perhaps best known in Kentucky as the Head Golf Professional at Audubon Country Club from 1986-1999, Bradow mentored and taught numerous youth members at the club who earned college scholarships and enjoyed successful collegiate careers. His mentorship was felt from his assistant professionals as well, as more than a dozen of those who began their careers in golf working with Bradow are now award-winning head professionals or directors of golf in Kentucky or in surrounding states. Before the turn of the century, he transitioned to work with PGA of America Headquarters which continued through 2016 before he retired and became a Life Member. Today, Bradow is still present in Kentucky golf through serving as a rules official at Golf House Kentucky competitions.
"This was news that blew me away," said Bradow. "I was elated to find out I was being inducted, but certainly shocked as well. After working in golf for fifty years, this is such an honor. I am humbled to be inducted and I know there will be a lot of tears at induction night from me and my family. My wife Carol has provided so much support to me and is a big reason why I'm in this position. She helped me navigate every avenue of my career, each of which I enjoyed, and helped me ensure I did everything the right way."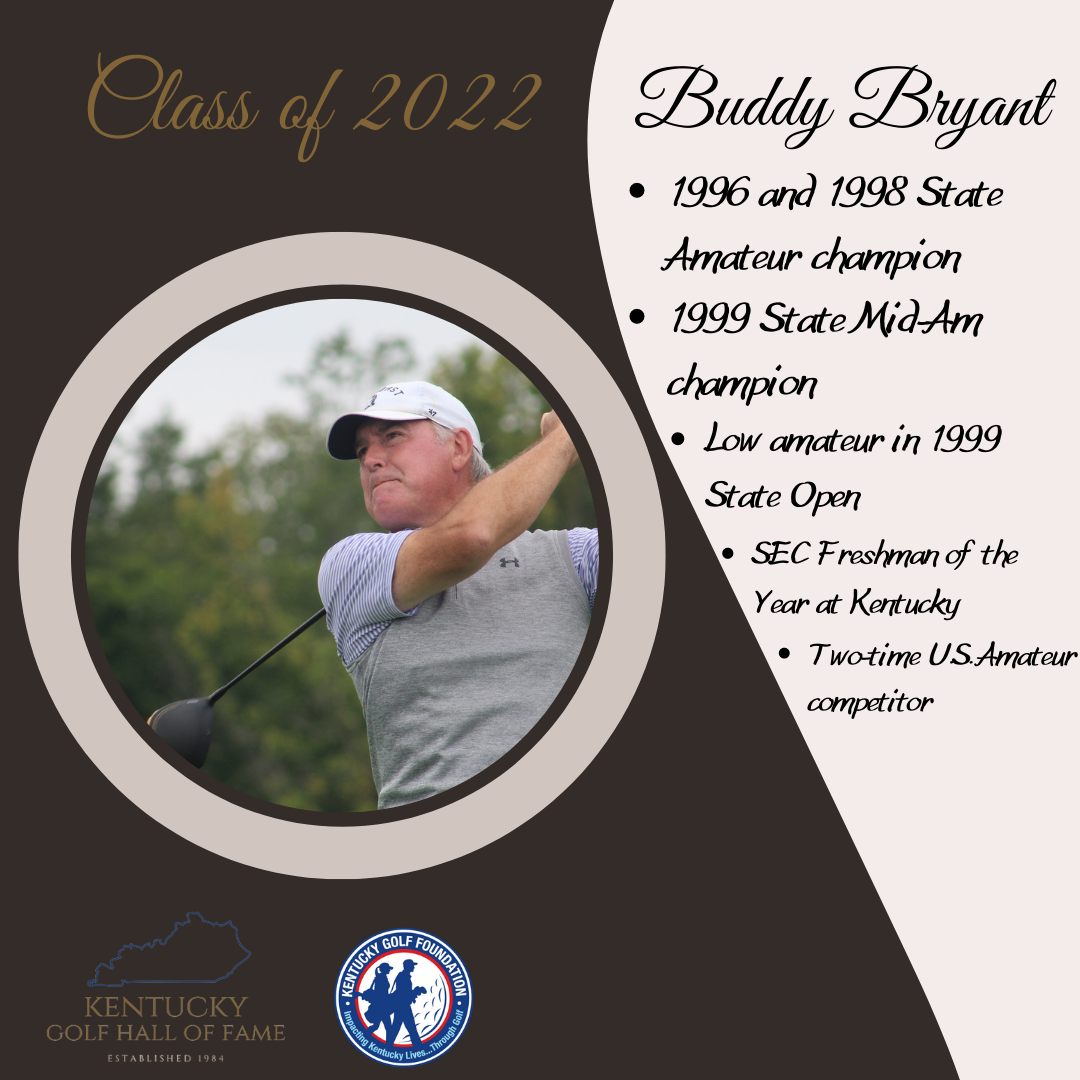 Buddy Bryant was born in Fort Stewart, Georgia but spent most of his childhood in Kentucky which led to graduating from Paducah Tilghman High School in 1980. A record-setting individual victory in the 1980 KHSAA Boys State Championship helped him earn a scholarship from the Kentucky Wildcats, with whom he was the SEC Freshman of the Year. After two years at UK, Bryant transferred to the Ole Miss Rebels and continued a decorated college career before graduating in 1985. After a brief professional career, Bryant had his amateur status reinstated in the mid-1990s which launched one of best stretches of amateur golf in the state's history. He won the 1996 Clark's Pump-N-Shop Kentucky Amateur at Audubon Country Club and captured the same tournament two years later at Eagle Trace Golf Course. In 1999, he captured the Clark's Pump-N-Shop Kentucky Mid-Am at Keene Trace Golf Club – Champions Trace. His high level of play has continued in the time since, continually factoring on leaderboards, and qualifying for the 2021 U.S. Senior Amateur.
"It's incredibly humbling to know that people regard me as one of the best in Kentucky," relayed Bryant. "I had never really considered that until I got the phone call. Very few things in your life match up to this, making it a pretty amazing feeling to absorb. I think I cried once I got told I was going in. I thought about my parents and how I wished they were here to celebrate with me… it's a pretty big deal to me."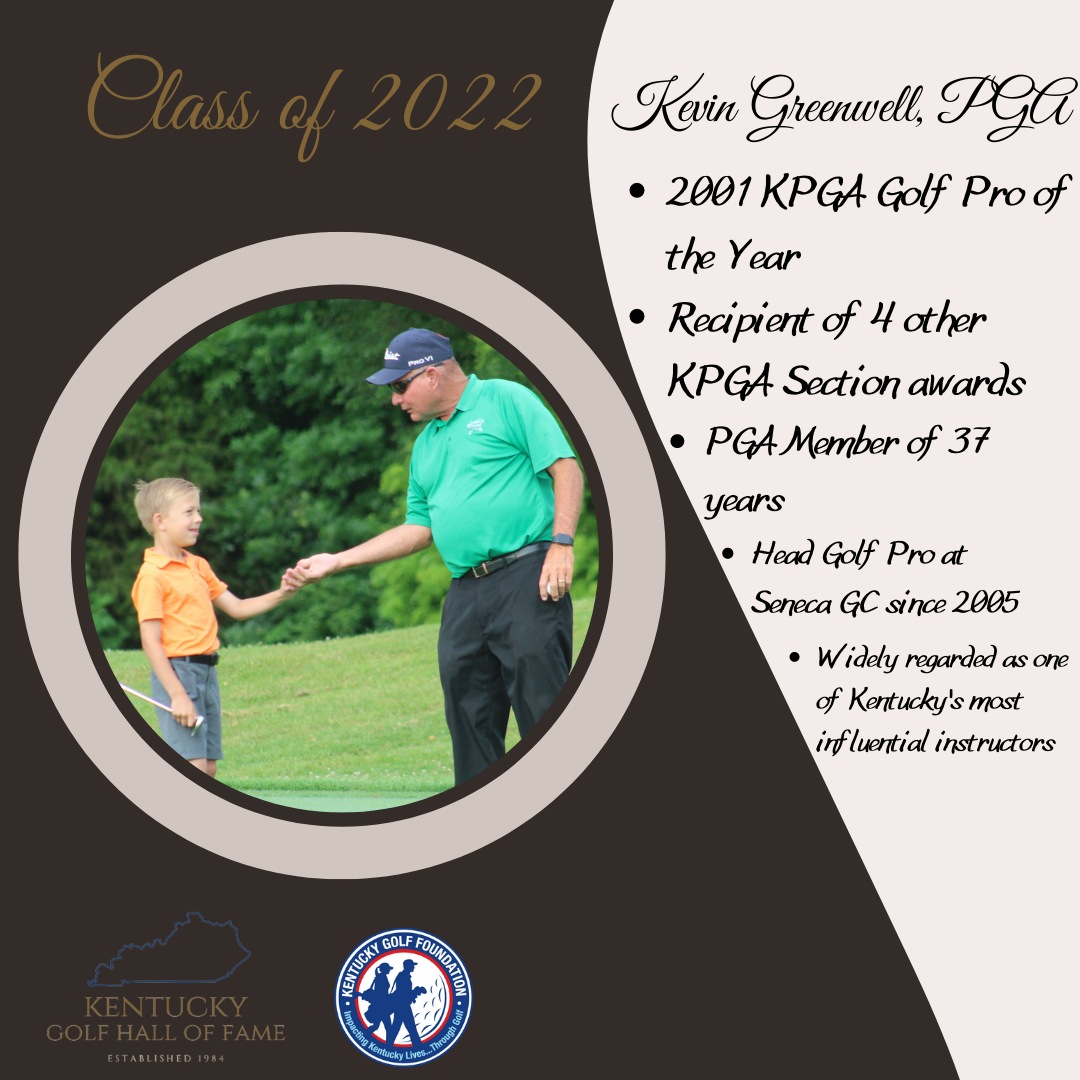 Kevin Greenwell, PGA is synonymous among the Louisville golf community as one of the most influential figures in the game. Many current Kentucky PGA Professionals and successful amateur golfers who grew up in Louisville have pointed towards Greenwell as being the reason why they have achieved the things they have on the golf course, and in life. He joined the golf industry in 1980 with a job at Iroquois Golf Course, but from 1981-1997, he followed Eddie Tyree from Iroquois to Seneca Golf Course where he was an Assistant Professional. In 1997, he got his first Head Professional gig at Shawnee Golf Course and was there for seven years before returning to Seneca as its Head Professional. He has been there ever since and provides a countless number of golf lessons to players of all ages and skill levels. His impressive work has landed him five KPGA Section awards, including the 2001 Golf Professional of the Year honor.
"I looked at the Hall of Fame inductees earlier this year and I didn't think (being inducted) would come to fruition," Greenwell conceded. "There are so many great names on that list and it's spectacular to be one of the next on there. I've always been in great places next to great Professionals to help guide me along the way, which means induction night will be exciting and rewarding when it comes to my colleagues who I owe a debt of gratitude to. I have a long list of folks to thank and developing that list for my speech will be a lot of fun. It starts with my wife Trish though, who has allowed me to allot so much time to my craft and I cannot thank her enough for her support."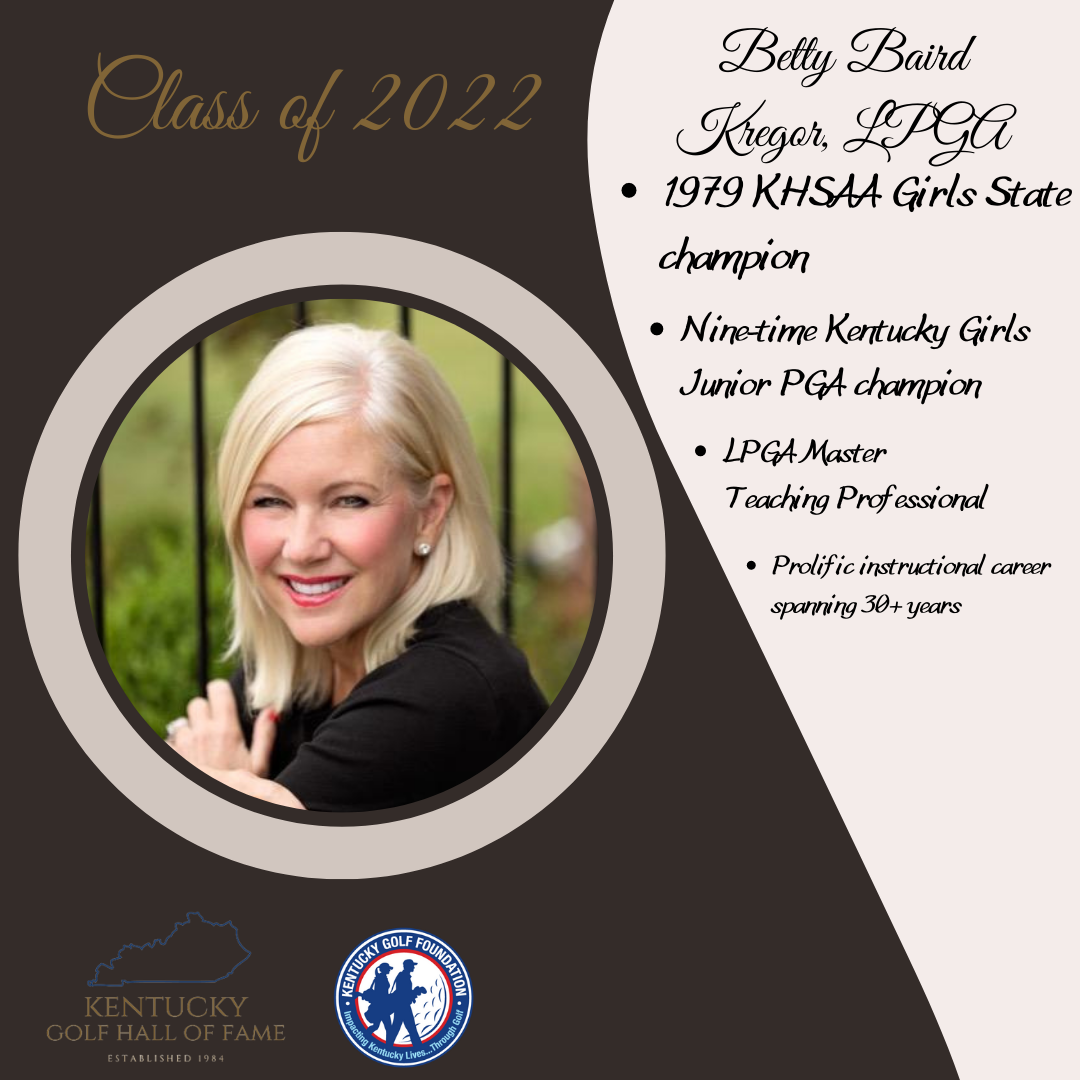 Betty Baird Kregor, LPGA's career in golf has sprawled multiple outlets, but each component has been widely successful. It started at a young age with Kregor becoming one of the most successful junior females in Kentucky golf history. She won the Kentucky Girls Junior PGA Championship nine times, became the first girl to win a boy's flight at the Junior Fall Cities in 1974, and won the KHSAA Girls State Championship in 1979. Her college career featured more success with the Alabama Crimson Tide, highlighted by several high finishes as an individual and as a team in conference and national championships. After obtaining her degree, Kregor turned her attention to teaching the game to others. In the 1990s, she established herself as an instructional celebrity appearing on multiple TV shows both local and nationwide, including a 1997 spotlight on the Oprah Winfrey Show. Today, she specializes in mentoring college athletes in and outside of golf through StraightShot Inc. Kregor directly works with golfers at The Golf Academy at Persimmon Ridge and has a client list that includes Jared Wolfe, Cooper Musselman and Stephen Stallings, Jr. among others.
"All I've been able to think about is the company I'm about to join," explained Kregor. "When you look at the long history of the Kentucky Golf Hall of Fame, it's an honor to join that group of people. As a big golf history buff, it's unfathomable my name is going to be on a list that will live on forever. People have kidded with me about being inducted in years past, so when Colby Wollitz, PGA told me last week I was going in, I didn't believe it at first. Now that it's for real, I'm so excited and can't wait to celebrate with the people who have helped me get to where I am at the induction ceremony."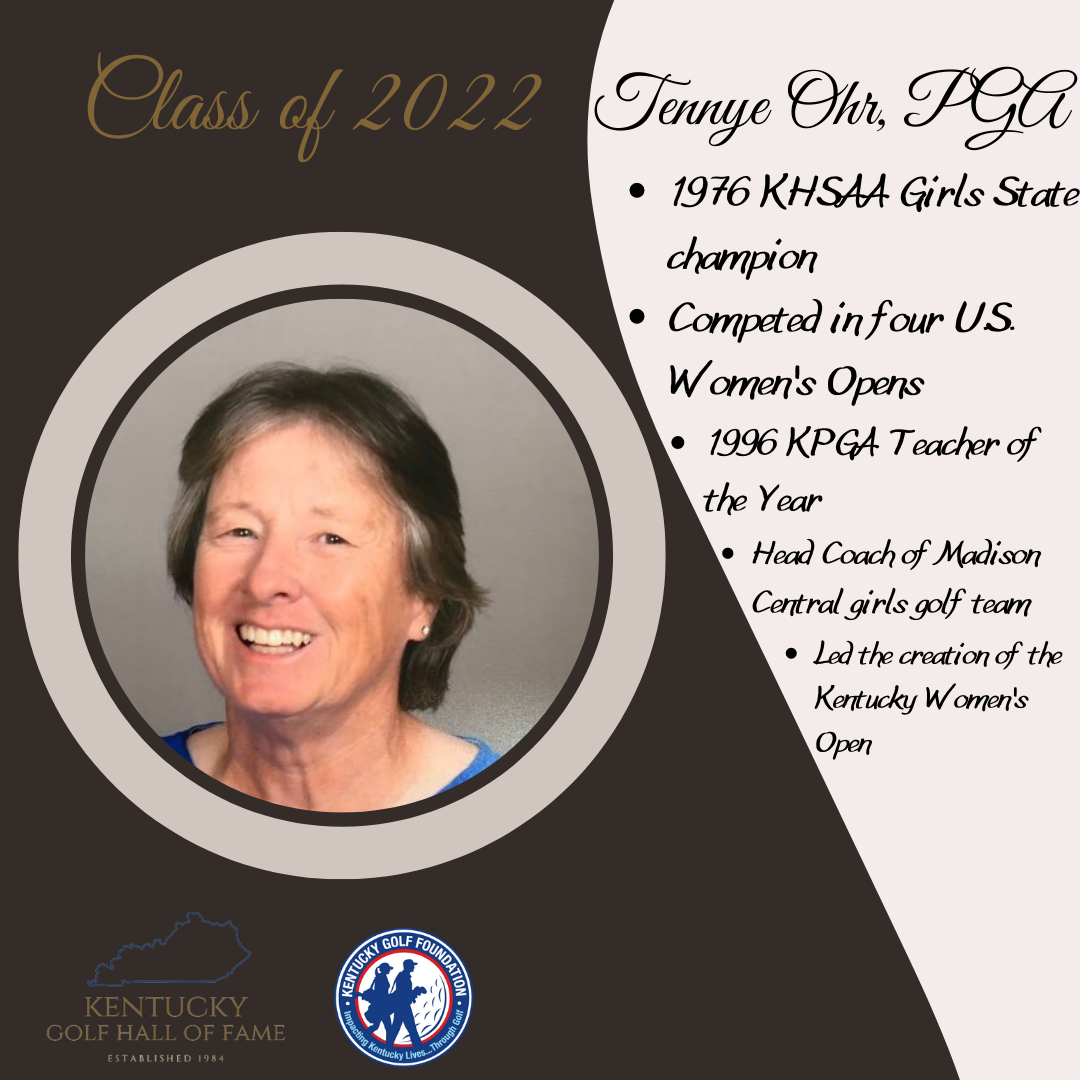 Much like Kregor, Tennye Ohr, PGA has had a Hall of Fame career both as a player and as an instructor. Raised in Irvine, Ohr became the first student-athlete in the city's history to letter in any sport and did so while she was still in middle school. Once she began her freshman year, she became a key influence of the newly formed girls golf team at Estill County High School. The 1975 team became the first girls team from any sport at Estill to win a Regional Championship and then compete in a KHSAA State Championship, where they finished third as a team while Ohr placed third individually. She played college golf for the Kentucky Wildcats where she competed in four National Championships. During that timeframe, she qualified for her first U.S. Women's Open and went on to play in three more editions of that championship down the road. It was in 1987 when she was elected to Membership within the PGA of America, launching a teaching career that would take her to every corner of the United States. She taught in South Carolina, Maryland and in Hawaii at Kapalua Resort before returning to Kentucky. Her passion for the game has been evidenced through leading the creation of the Kentucky Women's Open and is presently shown through coaching Madison Central High School's girls golf team and teaching at Man O'War Golf.
"I am overwhelmed and shocked at the fact I'll be in the Kentucky Golf Hall of Fame," exclaimed Ohr. "To get considered alone is amazing, but to be inducted on top of that is beyond words. If I can make it through my speech at the induction ceremony without crying, it'll be a miracle as I'm sure it will be a very emotional evening. So many different people from different segments of my life have influenced me, from Gene Hilen to Jack Barber and so many others, I owe this recognition to a lot of people."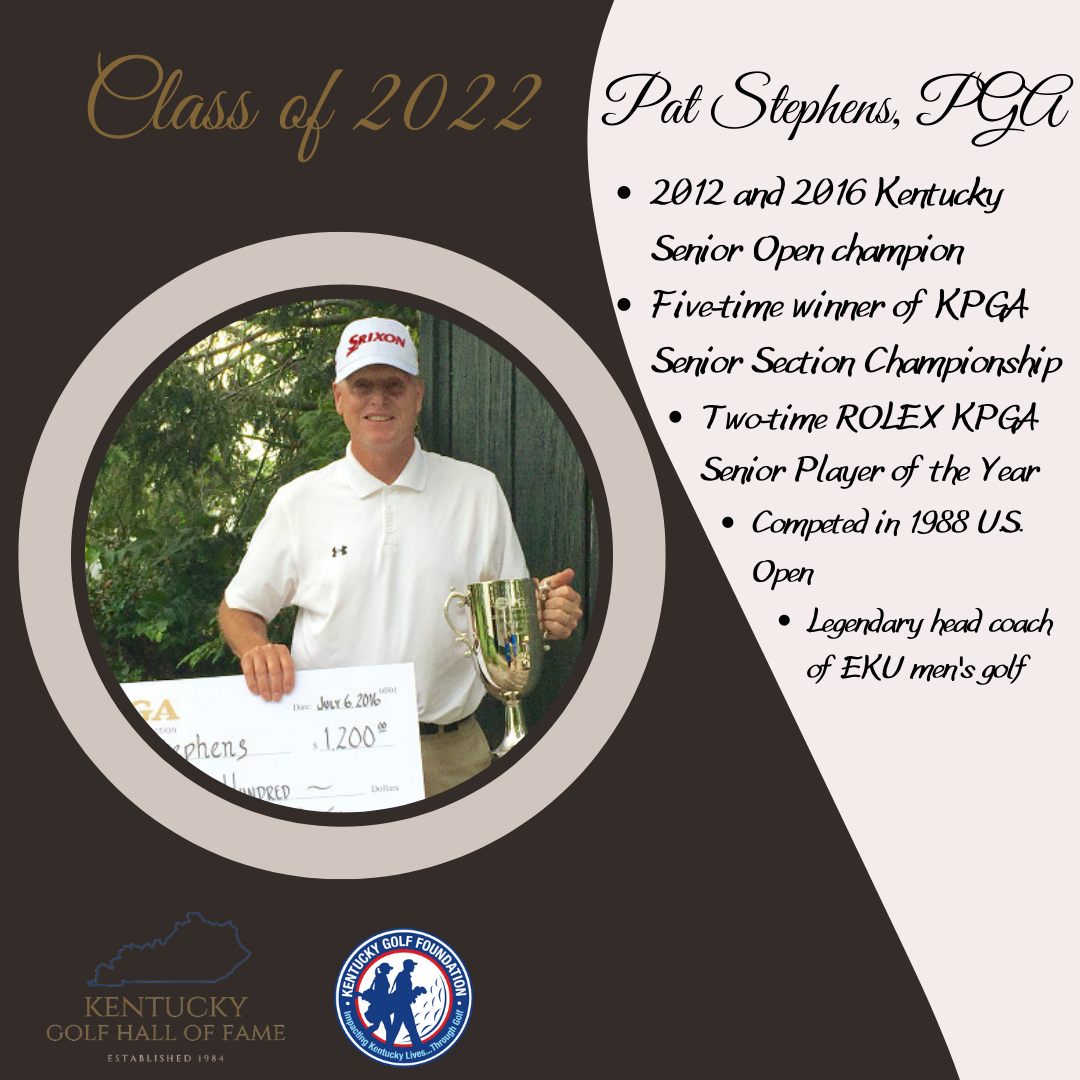 Rounding out the 2022 inductees is Pat Stephens, PGA who follows the trend of being a remarkable player and coach. Stephens was a dominant force on the state's senior golf scene in the 2010s, highlighted by winning the Kentucky Senior Open in 2012 at Andover Golf & Country Club and again in 2016 at Persimmon Ridge Golf Club. He also won the Kentucky Senior PGA Professional Championship five times in six years, which included four straight victories from 2011-2014. His playing accomplishments began well before he turned 50, however, as he played in several PGA TOUR events including the 1988 U.S. Open from The Country Club at Brookline in Massachusetts. Even with all those accomplishments, it might be coaching that has made Stephens stand out as his tenure at Eastern Kentucky University from 1997-2018 was filled with glory. He was the OVC's men's golf coach of the year on four occasions and helped the Colonels win the Conference Championship in 2006, 2008 and 2015. In 2018, he began a new venture in the Lone Star State and now leads the women's golf team at Texas A&M – Corpus Christi.
"This recognition is very humbling," said Stephens. "I'm excited to go back home for the induction and see everyone. (Being inducted) was never on my radar, so seeing friends and colleagues who I haven't seen in a long time will make for an emotional night. I've started thinking about what I'll say during my speech, and I don't know yet. That's ironic to me because for so long I've asked my players before they hit a shot, 'What are you thinking here?' Now I'm the one doing that to myself."
Both the date and venue of the 2022 induction ceremony are currently to be determined and will be confirmed in the coming weeks. The induction of these six individuals will bring the total size of the Kentucky Golf Hall of Fame to 91 people.
About the Kentucky Golf Foundation:
The Kentucky Golf Foundation (KGF) is one of the three organizations encompassed under Golf House Kentucky, in addition to the Kentucky Golf Association (KGA) and Kentucky PGA Section (KPGA). The KGF is a joint-initiative of the KGA and KPGA that was founded in 2002 to promote the game of golf and its values throughout Kentucky. It is a 501(c)(3) charitable affiliate. The KGF's impact can be best seen through programs and initiatives such as the Kentucky PGA Junior Tour, Youth on Course and PGA HOPE.
Media Contact:
Ethan Fisher, PGA | Golf House Kentucky | efisher@kygolf.org | (502) 792-9703
Golf House Kentucky Sponsors