Ferriell & Leach Inducted to HOF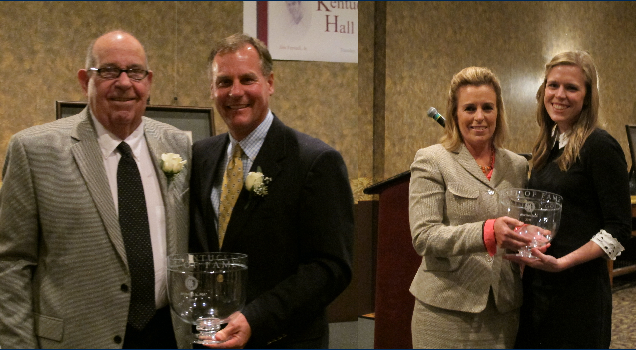 It seems only fitting that the day two of Kentucky's finest golfers are inducted into the Kentucky Golf Hall of Fame, it should be a day for perfect golf conditions. The Induction Ceremony was held on Tuesday, November 3 at Receptions Conference Center in Erlanger, Kentucky on a beautiful day with temperatures in the mid-70s. Jim Ferriell, Jr., a PGA Professional with 3 Kentucky High School Championships and Kentucky Open victories, as well as a successful career on the PGA Tour and Martha Leach, the 2009 U.S. Women's Mid-Amateur Champion and steady figure in almost 60 (and counting) USGA Championships, were honored as the Class of 2015 - joining many other greats of Kentucky Golf who are known for playing ability, service to the game and more.
The evening was made special by those who attended and reminisced about good times and fond memories that only the sport of golf can create to bond people together for life. Crooked Stick Golf Club PGA Director of Golf, Tony Pancake gave equal praise and a bit of fun needling to his longtime friend, Ferriell, as he presented him his award. Ferriell provided many laughs in a speech, where he presented a long scroll of paper to read his notes from ("just to get things going") and inspiration when he introduced his 97-year-old mother, Cletus, to the crowd. Leach was presented by her daughter, Madison Gerstle. The two shared the unique experience of playing the inaugural U.S. Women's Four-Ball Championship last year, an event that Leach shared, "hooked" her daughter on golf. Gerstle joked that the real secret behind Leach's USGA Championship success is actually a steady diet of Chick-Fil-A, among other superstitions. Those in attendance were brought to their feet by both Inductees - it was their speeches and those of the presenters that made the night truly something to remember.
Other prestigious awards were given out on this great evening. Golf House Kentucky's Director of Junior Programs, Chris Redle presented the Golf House Kentucky Junior Player of the Year Awards to Lauren Hartlage of Elizabethtown and Kyle Jeffers of London. Kentucky PGA Vice-President Ralph Landrum presented the Larry Gilbert Player of the Year Award to Keith Ohr, the newly named Head PGA Professional at Lake Forest Country Club, the Senior Player of the Year Award to Juniper Hill Course Head Professional Kirk Schooley and the Assistant Player of the Year Award to Big Spring Country Club, Inc. Big Spring Campus PGA Professional, John Bachman. Kentucky Golf Association President, Jimmy Riddle presented awards to the amateur Players of the Year, including Princeton's Emma Talley (Women's Player of the Year), Lexington's Denver Haddix, Jr. (John C. Owens Player of the Year) and Steve Humphrey of Lexington (Tom Musselman Senior Player of the Year).
Golf House Kentucky Executive Director, Steve McMillen also presented the 2015 J.W. Janes Award (for outstanding contributions in amateur golf) to Louisville's Don Russell, who has broadcast the television show, "Inside Kentucky Golf" for almost 30 years. It was an evening of fellowship and fun and we sincerely thank everyone in attendance, as we celebrated the past, present and future of golf! Our sincere thanks to Tom Cooksey, Kentucky Golf Foundation President and Master of Ceremonies for a terrific program and to Receptions Conference Center for their hospitality!
Official Press Release
The Kentucky Golf Foundation is excited to announce the election of the Martha Leach and Jim Ferriell, Jr. into the Kentucky Golf Hall of Fame. Kentucky's Family of Golf Organizations will come together to celebrate on November 3 at Receptions Conference Center in Erlanger for the annual Celebration of Kentucky Golf that includes the Hall of Fame induction ceremony as well as recognizing the 2015 Player of the Year Awards.
James A. Ferriell, Jr., PGA – (73, Carmel, Indiana) is a Louisville native who won the Kentucky State High School Team Championship, captained the University of Louisville Men's Golf Team from 1962-1964 and qualified for 24 National USGA and PGA Championships. He is a three-time Champion and a two-time Runner Up of the Kentucky Open. He had a ten year stint on the PGA Tour, including one victory and represented the United States in the PGA Cup Matches in 1977. He is a member of the Trinity High School, University of Louisville and Indiana PGA Hall of Fame. His achievements do not stop at his playing abilities. While on tour, Ferriell worked as PGA Professional in Northern Kentucky before becoming the Head PGA Professional at Crooked Stick Golf Club from 1978-2003. He's served the Indiana PGA and Indiana Golf Foundation and formed developmental programs and scholarships. He's been recognized by the Indiana PGA as Golf Professional of the Year (three times), Bill Strausbaugh Award winner and Private Club Merchandiser of the Year and is known as one of the top instructors in the Midwest.
Martha Stacy Leach – (53, Hebron, Kentucky) has amateur accomplishments that spread far and wide. She's played in over 56 USGA Championships – including playing the in U.S. Women's Amateur in five different decades. While she's made it to Quarter, Semi and Final rounds of many of those top events, she won the 2009 U.S. Women's Mid-Amateur at Golden Hills Golf and Turf Club. She also won the 1979 Bermuda Amateur. She was ranked tenth in the country by Golf Digest in 2001 and twentieth by Golf Week in 2010. She was on University of Georgia's Golf Team from 1980-1983, where they won an SEC Championship in 1983. In 2015, her and daughter, Madison were the only Mother/Daughter team to qualify for the U.S. Women's Amateur Four-Ball in the country – an event held on Mother's Day. Leach is the youngest sister of three-time U.S. Women's Open champion Hollis Stacy and also holds important titles in Texas and Georgia.
The Kentucky Golf Hall of Fame was established in 1984 as a joint effort by the Kentucky Golf Association and the Kentucky PGA to honor individuals in Kentucky with significant achievements and accomplishments in various areas of golf. The Kentucky Golf Hall of Fame's membership includes individuals with outstanding records as players, golf professionals, golf course superintendents, educators, and golf administrators. It is located at Golf House Kentucky in Louisville. For information regarding the ceremony and tickets, please contact Golf House Kentucky Director of Communications-Membership, Erin Horn at (502) 243-8295 ext. 306 or ehorn@kygolf.org.
Golf House Kentucky Sponsors