Class of 2016 Inducted to Hall of Fame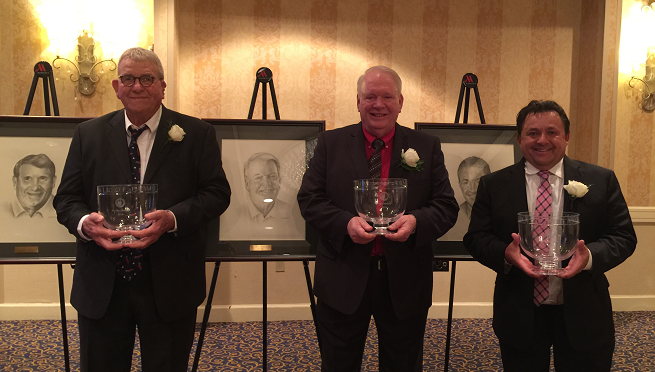 On a day perfect for playing golf, three of Kentucky's finest were inducted into the Kentucky Golf Hall of Fame. The Induction Ceremony was held on Friday, November 18 at Marriott's Griffin Gate Resort in Lexington on a beautiful day with temperatures in the mid-70s.
Dr. Rex Chaney, the long-time Morehead State Golf Coach, Kentucky Golf Association Leader Tom Cooksey and former Valhalla Superintendent Mark Wilson were honored as the Class of 2016 - joining many other greats of Kentucky Golf who are known for playing ability, service to the game and more. The evening was made special by those who attended and reminisced about good times and fond memories that only the sport of golf can create to bond people together for life. Wayne Martin kicked off the inductions by introducing his longtime friend and former coach, Dr. Rex Chaney. He concluded his speech by playing Kenny Chesney's song "Coach" dedicated to Chaney by his players in a fitting tribute. Chaney introduced the family that attended the evening to celebrate his accomplishment. He acknowledged two who were also absent in his son Lee, who is caddying for his standout former player, Josh Teater in a Professional event.
Next to take the stage was Kentucky Golf Association Board Member, Jim Wells and Ben and Dan Cooksey. The three told funny tales of the thorough and serious man who is still making a constant effort to grow the game of golf in Kentucky, especially in the eastern part of the state - Tom Cooksey. Their speeches were emotional, powerful and sprinkled with good-humoured digs at "Mr. 69." Cooksey acknowledged that he certainly wasn't able to accomplish his many accolades on his own, crediting his wife, children and peers for their help along the way. To round out the ceremony, Dr. Dwight Barkley took the crowd through the career highlights of his favorite student at Eastern Kentucky University, Mark Wilson. Wilson was humbled by the crowds of "teams" from his various moves along his career that joined him in celebrating the evening. He always considers his teams as part of his family. Those in attendance were brought to their feet by each Inductee - it was their speeches and those of the presenters that made the night truly something to remember.
Other prestigious awards were given out on this great evening. Golf House Kentucky's Director of Junior Programs, Chris Redle presented the Golf House Kentucky Junior Player of the Year Awards to Sarah Fite and Cullan Brown. Kentucky PGA President Ralph Landrum presented the OMEGA Larry Gilbert Player of the Year Award to Blake Watts of Wildwood Country Club and the OMEGA Assistant Player of the Year Award to Weissinger Hills Golf Course's Daniel Iceman, III. At the time of the ceremony, the OMEGA KPGA Senior Player of the Year was yet to be determined by the Senior PGA Professional Championship in Florida. Kentucky Golf Association President, Jimmy Riddle presented awards to the amateur Players of the Year, including Martha Leach (Women's Player of the Year), Andy Roberts (John C. Owens Player of the Year), Gary Backlund (Tom Musselman Senior Player of the Year) and 2016 J.W. Janes Award (for outstanding contributions in amateur golf) to Lisa Goins. It was an evening of fellowship and fun and we sincerely thank everyone in attendance, as we celebrated the past, present and future of golf! Our sincere thanks to Kelly Williams, Kentucky Golf Foundation President and Master of Ceremonies for a terrific program, to Don Russell for his work on the video presentations for the award winners and to Griffin Gate for their hospitality!
Golf House Kentucky Sponsors